CamGasm Reviews
Learn more about how camgasm.com operates here. From prices & costs to features we share the details about this adult cam site.
Lets just dive right in. Camgasm, while it is an independent site it's actually the identical source code from Chaturbate.com (review at that link). Stop. Before you read the reviews for this sister site of Camgasm let me briefly tell you what is markedly different at Camgasm.com and why it's a cobrand site.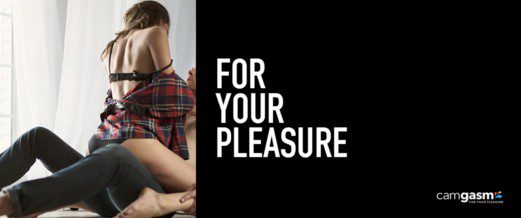 Camgasm.com does not allow free chat with nudity, like their sister site does Chaturbate.com does. This follows the less is more school of thought and the company created this site did so specifically because lots of

performers prefer to be modeling at a site that discourages freeloaders

. It is still a freemium business model, but since the focus is on private shows, by restricting nudity in free areas Camgasm draws in more people as members who are ready to pay. We get to value below as well as safety and other topics, but first we are sharing what stands out or makes this site different from the other sex cams site operated by the same parent company.
THAT'S ALL THAT IS DIFFERENT FROM CHATURBATE. Otherwise, camgasm.com is a totally identical site to Chaturbate.com. All the source code is again the same and that is why Camgasm has the same exact models and features.
Unlike, Streamate.com, which is so popular because of their awesome direct billing options, Camgasm requires tokens as most live cam sites do.
Average cost for video sex chat on Camgasm is only about $4 U.S.D. per minute. Of course the model gets to choose what they list as their show costs and these are shown to you in terms of credits aka tokens per minute. On Camgasm 30 tokens to 60 tokens per minute is average. American webcam girls do charge more and some new models sometimes charge as little at 6 tokens per minute.  A similar site is called Cams.com (review at that link) in that they too are a tokens based site. In our opinion, that site offers a better user experience with respect to private shows, but Camgasm reviews to be accurate should also tell you that Camgasm has more American cam girls.
Trust and Safety Camgasm.com Reviews Information
Camgasm maybe a new site, but you must realize the underlining company operating the site has WAY WAY too much to lose to screw over customers. The only rip-offs per say that you can possible run into are cam girls who do not get nude fast enough for you or do not speak English. This rarely happend. Besides this, at Camgasm.com you will find is an above boards business and very safe site. Camgasm and the company as a whole has literally millions of satisfied customers and is one of the fastest growing adult webcam platforms in the United States. The site load times are amazingly fast and the parent company is also one of the largest in the adult entertainment industry. The takeaway for you should be, this is a very secure site.
As far as our Camgasm.com comparisons the site is incredibly feature rich.
Things that Camgasm does well at:
Selection of American webcam girls: Somehow the underlining platform has really taken off in America and has a cool factory with young American cam girls. However, many of these sexy young American girls do not really like nor do private shows; instead they focus on open striptease public shows at Chaturbate.

Bots:

 The same awesome bots are on offer for internet models here which does add to the user experience once you get accustomed to using the site. These bots connect you to content selling site like manyvids for models as well as their own social media pages. However, many of the bots pertain to group shows so this means at Camgasm that is tailored to private shows these bots are not as often being used.

Navigations Tools:

 As the most technologically centered sex chat site Camgasm offers a wealth of ways to browse models and the welcoming home page is one of the better examples of an easy to use live chat site for adults.
Is Camgasm a Free Adult Chat?
No, Camgasm is NOT a free sex webcams site. As we have said in all our adult webcam reviews, there is no such thing. It's a matter of supply and demand. Why would a person be a model and get naked on cam unless they were being paid? The answer is they would not.
What Camgasm Looks Like (Screenshot):
It's a clean user interface and UX experience overall but it's a bit stale in the fact that it's basically copied from another site.
Conclusion about Camgasm
Camgasm is a 4 out of 7 in our opinion when it comes to private 1 on 1 sex chat sites. No matter how you slice it the top adult chat sites do better at making the site more intimate for people who prefer premium adult webcam experiences. Kudos have to be given for presenting a solid value and lots of American cam girls as well as tons of ladies on live webcams from Eastern Europe and Colombia but we think that most would agree when it comes to private shows camgasm is a middle of the road site.